Flowers of the Ginger Plants
The Species - Etlingera elatior-
---
The "Torch" Flowers that we see in our garden
This page is devoted to the flowers from the Etlingera or "Kantan" plants. This garden varieties come in many shades. Pheaomeria are also commonly named as Etlingera.
In Malaysia E. elatior is commonly left to grow at the edge of ditches and river banks. That gives the impression that the ginger plants are growing in the wild.
This species seems endemic to Malaysia has beautiful pink flowers.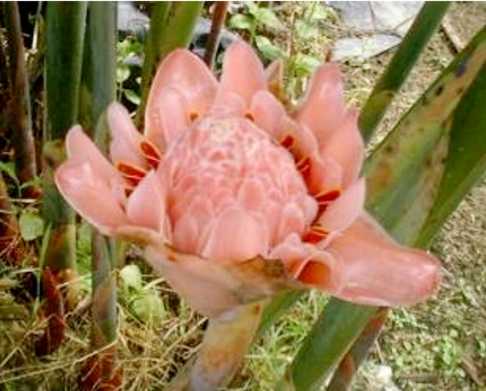 Local suppliers of cut flowers prefer this species [below] of red "Kantan" as against the Pink . We gave it a loose name of Red Torch.
Unlike the pink torch, bracts from the flower opens gradually, enhancing that rosette appearances. The core of the torch, stay intact without further opening for a while. This action of slow opening preserve an majestic appearance for longer period. The superior quality of this species when compared with the "Pink Torch"
A matured flower with bracts well opened. Yet the "Torch" center core is not clearly revealled.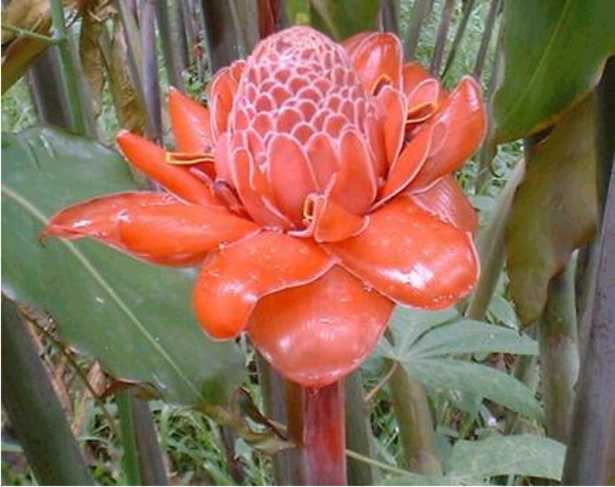 Occasionally you may come across one hybrid that is blood red.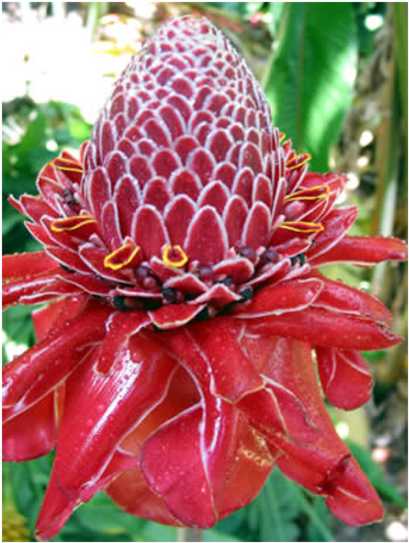 Lastly, Bunga Kantan is a popular enhancer to spicy dishes prepared by Malaysian home. In this instant, it is the tender young buds that yields the strong fragrances. without contaminating the food with obvious residue. Kantan is sold more as a food condiment. As cut flowers? In Malaysia, they are not readily available as Heliconias.
White flowers while looking pure is not preferred. It looks plain and the features are not outstanding. It is there fore not very often seen. Top -it the bud
Top -it the flower in its fully opened state Below -the flower still in the process of opening up.
| | |
| --- | --- |
| | Next, beside the E. elatior, you will see other species of the cultivated "Torch" Etlingera -Page 2 |

Flowers of the Ginger Plants
Go back to index page | About Us | BACK