Kuala Selangor Nature Park
---
From the pictures seen on the earlier page and if you have reached this canal. You are "out of the woods" or left the wooded area for the lake district. This is the first of the 2 canals. This one was over a broad and deep perimeter canal and was the final barrier to all tides. Past this canal, the Ring Bund itself cut across the path.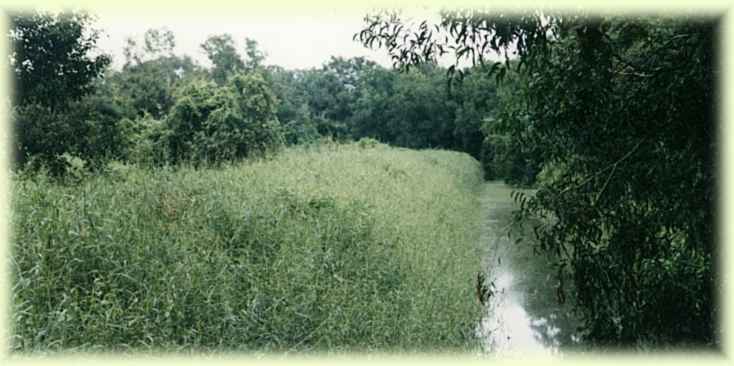 If you around there at the appropriate time, you can see reasonable size Tilapia and Gourami fishes moving in the water.
If you choose to continue straight, a short distance away is another bridge with both sides boarded up. Cross over the waterway, you will catch the first glimpse of the Lakes from the eastern edge.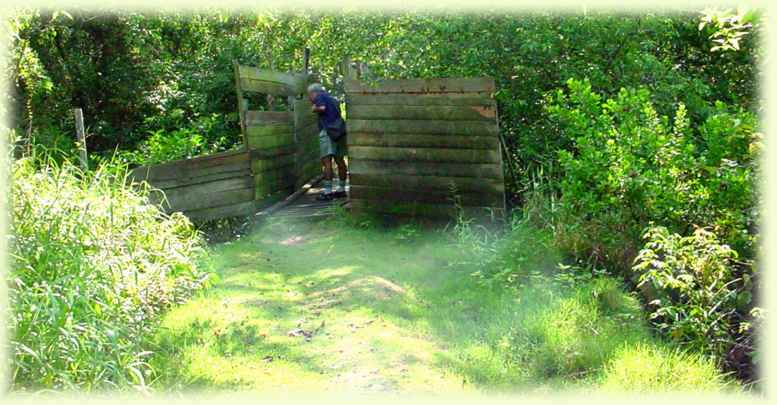 You are looking at the boarded second bridge. The canal here is the perimeter canal to the lake system. Picture above and below was the scene at different time. Now this hide was temporary dismantled.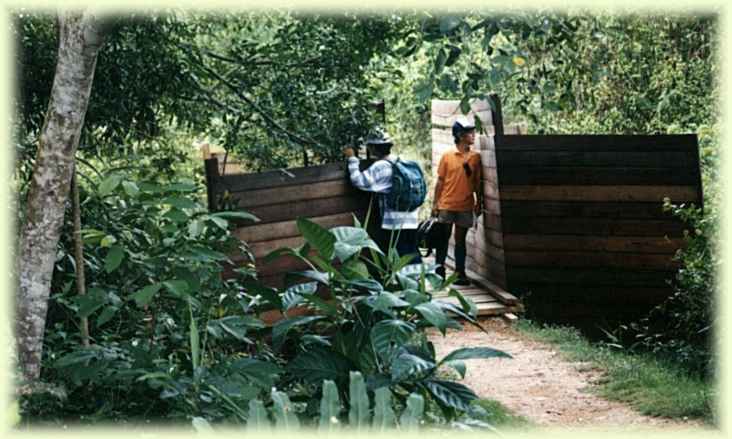 There was a time when life within this canal was very active. The lakes were filled and this canal remains flooded at most time. Little Herons and Kingfishers, main residents, found the wooden banks conducive to their lifestyle. When the lakes were not filled, gone was this special environment.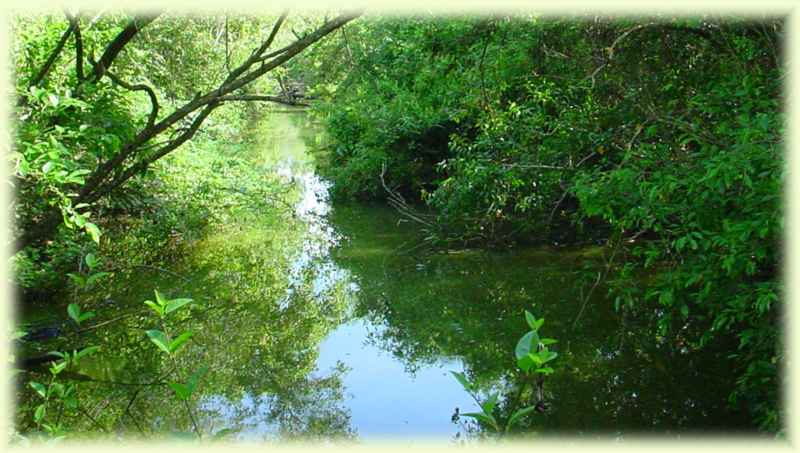 Remember, that the Park had a fairly parched secondary forest and a inundated mangrove forest?. Here, the canal created a very special environment to compliment the 2 conditions mentioned earlier. There is a narrow band of dense forest. Consisting mainly of low arcadia trees and thickly woven scrubs, hiding the canal. It is a natural habitat of yet another group of birds. You would find the smallest Tailorbird to the largest Malkoha, foraging in this dense undergrowth. For birders, this is one area that need more attention.
Here are the views of the canal itself - [top] left and right of the bridge
You could stand inside the bridges and peep out to spot any activities in the canal without alerting its occupants.

If you care to taste it, the water here is slightly saltish. This area is a part where various animals live, feed and hunt for food.
The area is very sheltered, quiet and peaceful. Slight movements and sounds are easily detected. Hope that those visitors who understand about nature would observe this basic rule for their own benefit.
---
| | |
| --- | --- |
| Log on to my main index sites to get more destinations | |
Go to main page | About Us | BACK | Nature Park Index page
Kuala Selangor Nature Park